Latest News
The Australian Embassy is inviting interested organisations to submit applications for grants under the Direct Aid Program (DAP).
Applications in English-language must be lodged by 5 pm (Mongolia time) on 23 June 2017 by email to mongolia.embassy@dfat.gov.au. Applications received after this deadline will not be considered.
Please click here for further details.
This year Reconciliation Week marks two significant milestones in Australia's reconciliation journey. It marks the 50th anniversary of the 1967 Referendum and the 25th anniversary of the Mabo High Court decision.
Jazz festival was held on 20 May 2017 at Shangri-La Mall courtyard
To celebrate the 45th anniversary of Australia-Mongolia diplomatic relations, the Australian Embassy and the Ministry of Foreign Relations were very pleased to host the well-known Australian jazz band, "The Syncopators". The Syncopators and the Jazz Train featuring singers Naagii and Ariu provided a free fun-filled concert on 20 May 2017 in the Shangri-La forecourt with the audoence enjoying Australian food and beverages.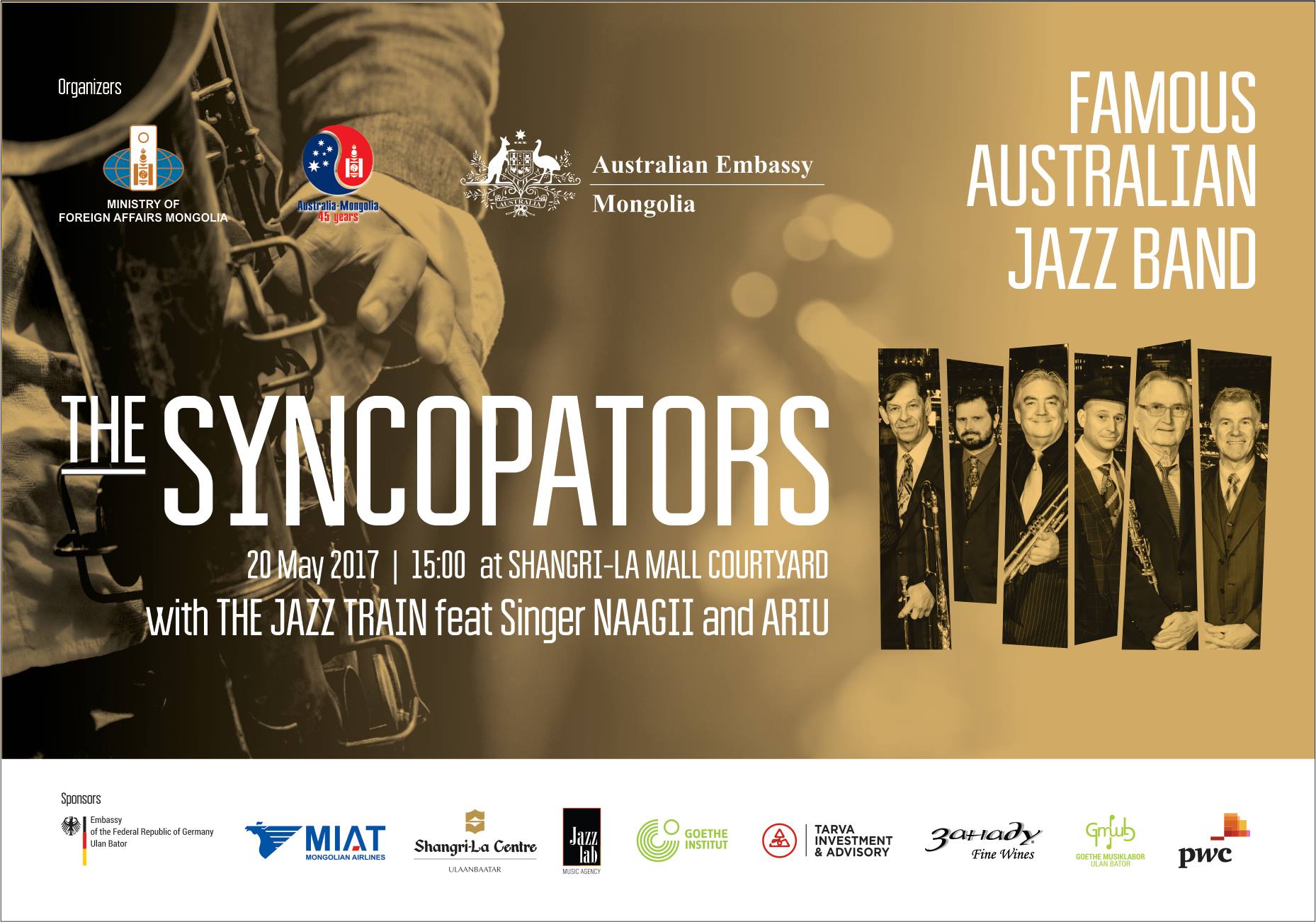 The Australian Embassy in Ulaanbaatar hosted an Australian National Day reception on Friday, 3 February 2017 to celebrate the birth of Australia and Australia's partnership with Mongolia.
2016
Today on 10 December 2016, we commemorate Human Rights Day. It was on this day 68 years ago that the United Nations General Assembly adopted the Universal Declaration of Human Rights.
On Friday, 25 November, Mr Choijilsuren Battogtokh, MP and the Finance Minister and Mr John Langtry, Australia's Ambassador to Mongolia signed a Memorandum of Understanding that defines the terms of cooperation between the two Governments in support of Mongolia's development needs.
On Thursday 17 November 2016, Ambassador John Langtry awarded grants to ten organisations selected under the Direct Aid Program (DAP).
A total of 120 applications were received for the 2016-2017 DAP grants. Please click here for selected list of grantees.
On Wednesday 9 November 2016, Mr John Langtry, Australian Extraordinary and Plenipotentiary Ambassador to Mongolia paid a courtesy call to Mr Erdenebat J., the Prime Minister of Mongolia.
On Tuesday, 1 November 2016, Australian Embassy in Ulaanbaatar observed the Melbourne Cup for the first time in Mongolia. Melbourne Cup is Australia's annual horse racing tournament that is equivalent of Mongolia's Naadam.
Thirty five Australian undergraduate students will study and undertake work placements in Ulaanbaatar, Mongolia in 2017 through the Australian Government's flagship New Colombo Plan education program.
Since 1993, over 400 Mongolians studied in Australia under the Australia Awards Scholarship. Currently, a thousand more Mongolians study in Australia by funding their own education. Over one hundred Mongolians representing the Parliament of Mongolia, government agencies, public and private sector gather on 16 September 2016.
On Monday 15 August 2016, Ambassador John Langtry hosted a reception for an Australian specialist medical team from Interplast and their Mongolian counterparts including the directors and doctors of the Mongolian Society of Anaesthetists and Burns Department, National Trauma and Orthopaedic Research Centre.
Australia's first resident Ambassador to Mongolia, Mr John Langtry presented credentials to His Excellency Mr Tsakhiagiin Elbegdorj, President of Mongolia on 22 December 2015. The Ambassador's Introductory remarks are as follows.
-------------------
For information on the Australian Aid Program, including the Australian Awards Scholarship Program, please cilck the following links:
You can find the latest information on the Minister for Foreign Affairs, the Minister for Trade and the Australian Department of Foreign Affairs and Trade on following websites: