Alumni stories
Strengthening SMEs and introducing digital marketing in Mongolia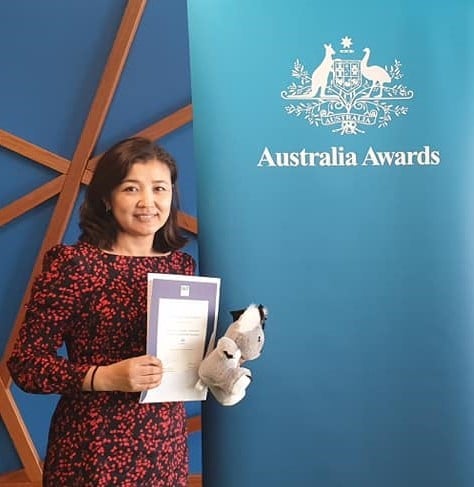 Throughout the world, Australia Awards alumni make positive changes in a variety of markets and sectors. One Mongolian alumna who should be highlighted is Sarantuya Baasankhuu - who is contributing to improving digital marketing options for Mongolian Small and Medium Enterprises (SMEs). In Mongolia, SMEs make up 98 per cent of all enterprises, and they face many obstacles to unlocking their full potential, including access finance and digital marketing systems.
Developing a new and better SME structure and marketing strategy is one way of helping SMEs fully utilise their potential and to better market their products both domestically and internationally. Currently Sarantuya, through her mentoring program, is using her Australia Awards experiences to directly mentor business owners of Mongolian public and private SMEs including Booklo – online bookstore, Ur Mine – kids cashmere, Huugiin Gutal – male handmade leather shoes, and Torhondoi – wooden barrels.
In Australia, she studied a Master of Business Administration (MBA) at Monash University through her Australia Awards Scholarship – a two-year study program involving experience-based modules, consulting projects, and overseas learning and industry engagement opportunities. In addition to building her management knowledge and skills through the degree, Sarantuya's exposure to company management practices was enhanced during a 2018 visit to Germany with mentors at the Amazon Fulfillment Center. There she experienced how Amazon manages product shipment in the European market. Sarantuya then travelled to South Korea where she engaged with mentors on Samsung's product development strategy and branding; and finally, she visited Shanghai where mentors in the WeChat development and e-commerce team shared their experiences with her. Each of these overseas learning and industry engagement opportunities were organised by the Monash University MBA teaching team in 2018. The MBA program at Monash University was transformative for Sarantuya through providing hands-on learning experiences: 'It was really practical after learning the theories. We were divided into groups and started applying the knowledge on real business cases. We provided consulting services to clients and that was how we got assessed during our MBA Program'. As a result, Sarantuya developed analytical skills, as well as effective team collaboration and problem-solving skills, which are essential in her current consultancy work.
Leveraging her increasing knowledge and part-time work experience at the Ibis Melbourne Hotel during her Australia Awards Scholarship, Sarantuya wanted to convey the quality and standard of Australian customer service practice into Mongolia on her return home. She set up her own customer-centric call center company - SABA Service Excellence - in 2018. This company aims to improve Mongolian service quality and provide call center services such as daily operations outsourcing, setting up sales and service channels, and building customer relationships. Since early 2019, SABA provides contact center outsourcing services to Tavan Tolgoi Tulsh LLC- /briquette/, Amar Insurance and service excellence consultancy services to Akuma Erin LLC, Son Medical Hospital Ulaanbataar, and Trans Capital NFI.
Sarantuya also participated in the Australia Awards-Mongolia - Women's Leadership Program (WLP) during 2019, after establishing her company. Through this leadership program, she gained a deeper understanding of the benefits of inclusiveness of marginalised groups and specific attributes of women's leadership which have changed her own perceptions. This piqued her interest in employing people from marginalised groups at SABA Service Excellence. Additionally, the WLP in-Australia component offered mentorship to participants, and Sarantuya utilised this opportunity to acquire advice from Australian mentors on start-up investment - including seeking capital injections for SABA Service Excellence. She commented that her 'MBA program taught me how to develop business modelling, while Australian mentors through the WLP advised me on attracting capital investment. The Australia Awards have contributed a lot to my career and business'.
Through SABA, Sarantuya focuses on employing university students, people with disabilities, early pensioners in their 50s, and mothers on unpaid maternity leave – aiming to provide support via an on-going income source through enabling employees to access work-from-home. This has been demonstrated as best practice for SMEs during the COVID-19 pandemic, and Sarantuya has helped SABA employees to keep a stable income, as well as to improve customer relationships in implementing digital marketing for many Mongolian SMEs, rather than via the more traditional face-to-face method.
This aim was part of Sarantuya's initial Reintegration Plan (a requirement for an Australia Awards Scholarship application, that focuses on the applicant articulating a plan that will contribute to Mongolia's ongoing development and is to be implemented in-Mongolia upon graduation from Australian university) when she first applied for an Australia Awards Scholarship. Sarantuya has been fully implementing her plan and continues to share her knowledge and experiences with Mongolian SME owners/ operators, with a strong focus on inclusion of staff from marginalised groups.
Leading the Technology in Health Service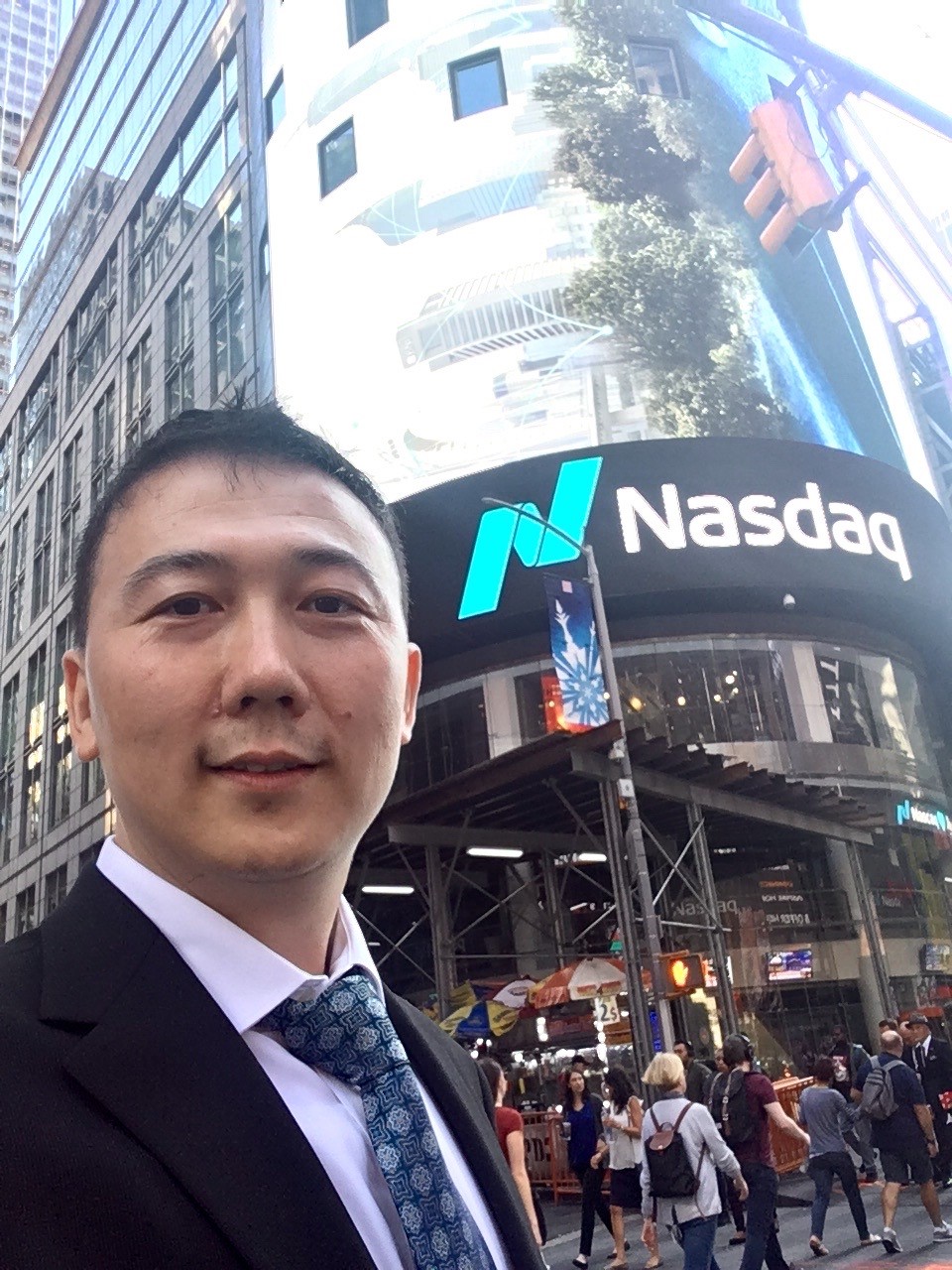 Mr. Usukhbayar Ariunbold completed his Master of Biotechnology (coursework and research) at the University of Queensland (UQ) in 2012. He applied for an Australia Award scholarship in Mongolia because Australian universities are among the best biotechnology institutions globally. Specifically, Australian universities offer an advanced study of biotechnology and also collaborate with industry and other universities around the world. Another reason he applied for the Australia Awards was favourable conditions the scholarship provides to students. Compared to some self-funded students, scholarship awardees are able to purely concentrate on their study without needing to work to cover living expenses.
Usukhbayar's research work involved a 1.5 year renal stem cell study under the supervision of Professor Melissa Little, an internationally recognised researcher for her work on kidney development. His master's research results were published in the Journal of American Society of Nephrology, one of the highest impact factor journals in kidney research (IF 9.6 in 2013).
Additionally, Usukhbayar secured a part-time industry placement through his UQ's Business School project as a research and development analyst. He developed an innovation framework for minimally invasive medical devices in the Asia Pacific at Cook Medical, the world's largest privately-owned medical device manufacturer.
Photo 1. Mr.Usukhbayar outside of Nasdaq stock market at Time square, New York
Usukhbayar was a proactive student during his study in Australia. He founded UQ's biotechnology and molecular biology students' club with his fellow students. He advised new students on course selection, applying for research projects, exam preparation and organised other extracurricular activities.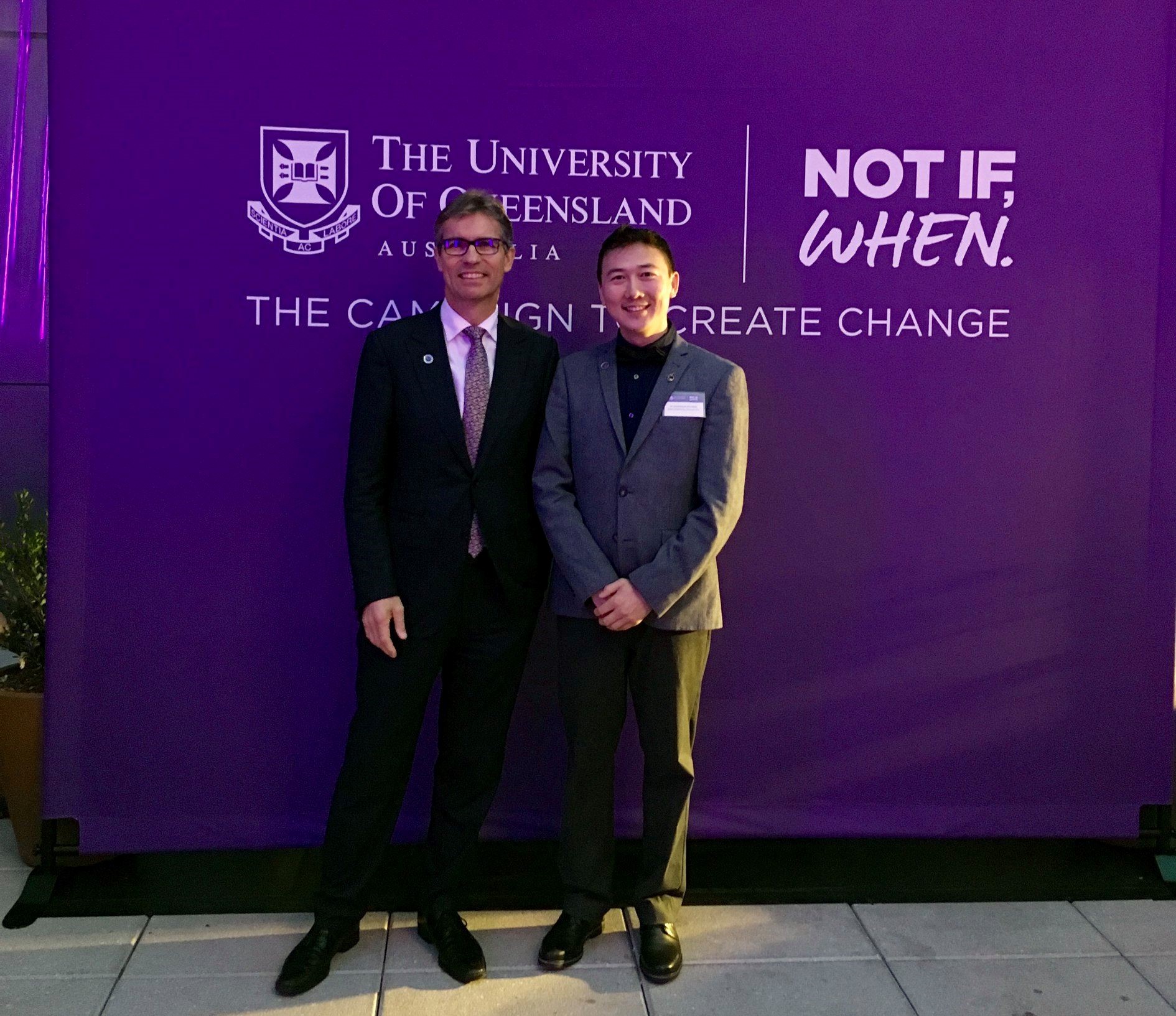 Upon returning to Mongolia, he was appointed as the Director of Foreign Relations Division at the Mongolian National University of Medical Sciences (MNUMS). While at MNUMS, he established the Technology Transfer Office and Technology Board. Drawing upon his experience in Australia, he actively participated in the development of university policies on innovation, technology transfer, Start-up Companies, trademarks, and research management. These initiatives became the cornerstone for the university's promotion of teacher-led startups. As a result, 5 startups were founded within two years of this policy change. Commercialisation of university research and creating a bridge between research and industry was one aspect of Australian practice he wanted to bring to Mongolia.
In 2015, Usukhbayar made a big career shift to take up the position of Health Insurance Director at Mandal Insurance LLC (now JSC). He used his skills acquired from the UQ's Business School and developed Mongolia's first private health insurance product and its service infrastructure called Jargalan Health Insurance.
Photo 2. With Professor Peter Høj AC, Vice-Chancellor and President of the University of Queensland
The Jargalan Health Insurance network has become the largest private hospital network and has increased the local private health insurance market by over 400%. Moreover, Jargalan Health Insurance product received the "Innovation of the Year 2015" Award from Bloomberg (Mongolia).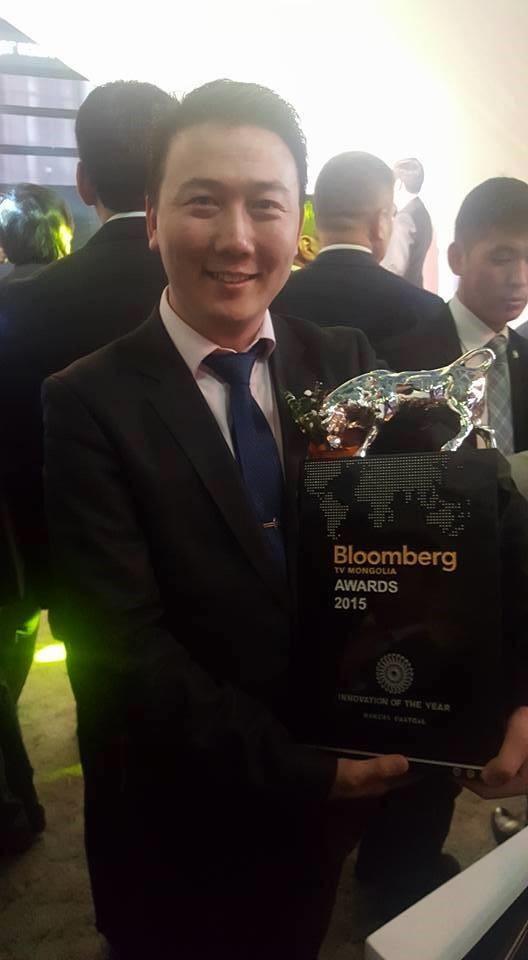 While working at Mandal Insurance, he had an opportunity to be trained at global insurance companies including MunichRE and Lamp Insurance in medical underwriting, health insurance and health service optimization. With this international work experience, a unique mixture of healthcare and insurance industry knowledge and personal and professional skillsets acquired from UQ for instance: planning, communication, decision-making, delegation, problem-solving/solution seeking, and motivating skills, Mr. Ariunbold had an opportunity to work as a healthcare service consultant in New York-based international healthcare consulting firm for two years. He stressed that "Thanks to the self-confidence built up by my successful completion of my Australian degree, as well as a broadened and diverse outlook while in Australia", he has been able to put his leadership, research and networking skills into practice across the globe.
Led by his strong passion for contributing to the development of Mongolia, he returned to Mongolia in 2019 and established an information technology-based healthcare service company called Zevtronic LLC. This company is looking to innovate through increased use of technology some of the core medical services in Mongolia based on his international healthcare service delivery experience.
Photo 3. Innovation of the Year 2015 from Bloomberg Award
At the same time, Mr. Usukhbayar Ariunbold is a Board Director of the Autism and Other Exceptional Children's Academy of Mongolia which provides diagnostic and intervention services for children with developmental disability and autism spectrum disorder.
Led by his strong passion for contributing to the development of Mongolia, he returned to Mongolia in 2019 and established an information technology-based healthcare service company called Zevtronic LLC. This company is looking to innovate through increased use of technology some of the core medical services in Mongolia based on his international healthcare service delivery experience.
At the same time, Mr. Usukhbayar Ariunbold is a Board Director of the Autism and Other Exceptional Children's Academy of Mongolia which provides diagnostic and intervention services for children with developmental disability and autism spectrum disorder.
Usukhbayar mentioned that he has learned many important skills that were pivotal to his current achievements during his study in Australia thanks to the Australia Awards Scholarship. To name a few:
1) Laboratory research work helped him to not give up even after hundreds of failures.
2) Industry placement helped him learn about research commercialisation and importance of intangible assets in business
3) Becoming acquainted with international settings helped him to understand multinational cultures and working and befriending with them.
He is very thankful to the Australian Government for an incredible opportunity to "study a world-class education in his field of interest in Australia, a beautiful country with amazing people".
Australian Alumni
One of the many benefits of studying in Australia is the eligibility to join the Australian Alumni Network when you return to Mongolia.
Mongolia has two Alumni organisations for returning graduates to join:
The Global Alumni Network - is a virtual global network that has been created to connect, build and invigorate the international community of scholars who have studied in Australia and Australians who have studied overseas.


This website supports alumni to continue building on educational and cultural experiences. It provides the opportunity to participate in ongoing personal and professional development and network with other alumni.

It includes content of general interest to alumni such as news articles, public events and alumni stories. These could come from the Australian Government, academic institutions, industry experts, businesses or alumni themselves.

The Mongolia - Australia Society, better known as "the Mozzies". The Mozzies comprises Mongolians have lived, worked or studied in Australia. Mozzies feature prominently in all aspects of Mongolian society, including the public sector, private enterprise and non-governmental organizations.

The Society's promotes co-operation and friendship between Mongolia and Australia through strengthening people-to-people, private sector and institutional linkages between the two countries.
The Embassy strongly encourages Mongolian alumni who have studied in Australia to register themselves with the Australian Global Alumni Network. Joining is free and will allow graduates to join a community of over 2.5 million overseas students that have studied in Australia in the last fifty years from around the world. Further information about Australian Global Alumni Network is available at https://globalalumni.gov.au/
We also encourage the alumni to get connected with the "Mozzies". Graduates may also like to join the Mozzies and participate in the range of activities organised through this alumni organisation, also supported by the Australian Embassy in Mongolia. Further information about Mozzies association is available at http://www.mozzies.mn/
The Mongolian Chapter of the Australian Law Council was successfully launched on 5 July, 2018. We encourage all Australian law alumni to join the Mongolian chapter of the Australian Law Council and contribute to enhancing ties between Mongolia and Australia. If you have a legal qualification from Australia, or are a lawyer who would like to join as a friend of Australia, please contact Sebastian Rosholt at [email protected] for registration details. Further information about Australian Law Council is available at https://www.lawcouncil.asn.au/
We also encourage the alumni to apply for our Women's Leadership Program. Women's Leadership Program commenced in late 2014 and is designed to assist female Australia Award graduates to improve their personal leadership, communication and organisational skills. The program is open annually to both men (male champions) and women on a competitive selection basis. It comprises a mix of formal training, mentoring, networking and practical project implementation to build skills, confidence and networks. Further more information on the Women's Leadership Program can be found here.
Benefits of Joining the Alumni
Strong and enthusiastic local alumni networks, working alongside and with the Australian embassy, open up opportunities for alumni to:
remain connected to each other through face-to-face activities and an online social media platform
form new personal and professional networks
access ongoing local, regional and global opportunities for networking and professional development
play an ongoing role in the implementation of scholarships
remain connected to the Australia.
Australian Embassy