Coronavirus (COVID-19)
The health and safety of Australians overseas is our highest priority. Due to the COVID-19 pandemic, we are not taking public appointments at this time. Our ability to provide some services may be limited. We will continue to prioritise consular services to those in genuine need. If you require urgent assistance, please contact our Consular Emergency Centre, Canberra (Australia): +61 2 6261 3305.
Latest News
Mongolia travel advice
Mongolia has border restrictions in place. If travelling to Mongolia, you'll have to quarantine for 21 days on arrival at your own expense. Schools and universities, shops, bars and places of entertainment have resumed pre-COVID-19 hours.
For the latest travel advice, please refer to http://www.smartraveller.gov.au/destinations/asia/mongolia.
Alumni basketball competition
The Embassy of Australia and Mozzies Association are pleased to invite you to attend annual Australian Alumni basketball tournament which will be held at Mandakh Burtgel University Sport hall on Saturday, 7 November.
You are invited to attend this event to play for or cheer your favourite team(s). Feel free to pass this invitation to other alumni as the tournament is open for all Australian alumni.
COVID-19: Going to Australia
Only Australian citizens or Permanent Residents can enter Australia at this time (limited range of exemptions are possible). When you arrive in Australia from overseas, you must complete 14 days of mandatory quarantine in designated facilities in the city where you arrive. You won't be allowed to travel domestically (including to your home) until you've completed the 14-day mandatory quarantine. Find out more about these entry restrictions from the Department of Home Affairs.
States and territories have separate quarantine arrangements. Completing the 14-days of mandatory quarantine on arrival does not mean you will be exempt from additional quarantine requirements in the state or territory you are travelling to. For the latest information visit: State and territory border closures due to COVID-19 on the Australian Interstate Quarantine website.
Temporary closure of the Australian Visa Application Centre in Mongolia
In light of the current COVID-19 (Novel Coronavirus) outbreak, the Australian Visa Application Centre (AVAC) and call centre in Mongolia will be temporarily closed until further notice. We apologise for the inconvenience and appreciate your understanding, and kind cooperation. For more information on AVAC, please visit www.vfsglobal.com/australia/mongolia/english/. For information from the Australian Government on Covid-19, please visit: www.homeaffairs.gov.au/news-media/current-alerts/novel-coronavirus
Alumni stories
Strengthening SMEs and introducing digital marketing in Mongolia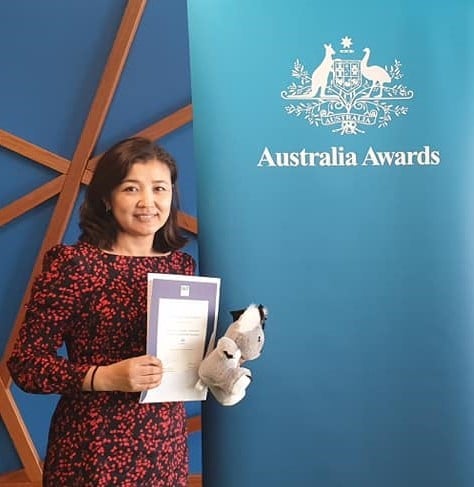 Throughout the world, Australia Awards alumni make positive changes in a variety of markets and sectors. One Mongolian alumna who should be highlighted is Sarantuya Baasankhuu - who is contributing to improving digital marketing options for Mongolian Small and Medium Enterprises (SMEs). In Mongolia, SMEs make up 98 per cent of all enterprises, and they face many obstacles to unlocking their full potential, including access finance and digital marketing systems.
Developing a new and better SME structure and marketing strategy is one way of helping SMEs fully utilise their potential and to better market their products both domestically and internationally. Currently Sarantuya, through her mentoring program, is using her Australia Awards experiences to directly mentor business owners of Mongolian public and private SMEs including Booklo – online bookstore, Ur Mine – kids cashmere, Huugiin Gutal – male handmade leather shoes, and Torhondoi – wooden barrels.
In Australia, she studied a Master of Business Administration (MBA) at Monash University through her Australia Awards Scholarship – a two-year study program involving experience-based modules, consulting projects, and overseas learning and industry engagement opportunities. In addition to building her management knowledge and skills through the degree, Sarantuya's exposure to company management practices was enhanced during a 2018 visit to Germany with mentors at the Amazon Fulfillment Center.
Click here to read the fully story.
Changes to Smartraveller
Smartraveller has the latest, authoritative travel advice so you can be informed and prepared about overseas travel. Subscribe to receive travel advice updates - by simply supplying your name and email address – straight to your inbox.
You can now also subscribe to the new SMS service - by supplying your mobile number – to receive critical alerts in the event of a crisis overseas.
In a crisis, Smartraveller will activate a crisis page on its website. It will make it easier for you or someone you know to contact the Australian Government if you need help. It will supplement the consular emergency hotline.
Visit www.smartraveller.gov.au to subscribe or connect with Smartraveller on Facebook and Twitter.
Direct Aid Program (DAP) Mongolia recipients: 2019-2020
Thank you for all who have applied for funding support of 2019-2020 Direct Aid Program Funding support. We have received 111 applications in total. It has been highly competitive, and we thank all of those that argued passionately for their projects. Our congratulations to the successful applicants. Click here to view this year's recipients.
German Corporation for International Cooperation GmbH, Australian Aid, Swiss Agency for Development, and Ministry of Labour and Social Protection of Mongolia have jointly implemented "Cooperative vocational training programme" at Polytechnic College of Umnugobi province, Mongolia, successfully.
Please click here for further information.
-------------------
For information on the Australian Aid Program, including the Australian Awards Scholarship Program, please cilck the following links:
You can find the latest information on the Minister for Foreign Affairs, the Minister for Trade and the Australian Department of Foreign Affairs and Trade on following websites: